Virus, Spyware & Malware Removal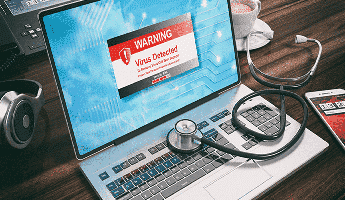 Viruses are a common daily problem for many computer users. Spyware may look innocent with simple pop up adverts but can be very harmful to your data and personal security.
We use a multi layered system for removing virus's and malware and not just a scan and go technique which will certainly not fix your virus issues.
Our experienced virus removal technicians are on hand to take the stress away whether you have already been infected or require our expertise in securing your computer.
There are many forms of infection that may attack your computer:
Virus
Spyware
Malware
Adware
Trojans
Root kits and worms
Some of the signs that your computer may be infected are:
Running slow
Slow to start-up or shut-down
Unwanted pop-ups or adverts displayed
Lost files
Unusual program messages
Frequent system crashes
If you think your computer may be infected or are unsure how to protect your computer, give us a call. We understand the risks and can deal with all infections. We can scan your computer for any signs of a virus or malicious software and remove them. Our removal service is available both at onsite at your home or at our office.
What exactly we do to solve the problem?
D7Logic provides comprehensive virus removal services to protect your PC. Often with very infected computers, we will take your computer away, backup your Personal files, wipe your PC, re-install Windows, Restore your files, perform all the latest Microsoft Updates, install a free or paid Antivirus, install all required software, bring back your computer, install your printers and configure your internet and setup your emails.