Hardware Faults & Part Upgrades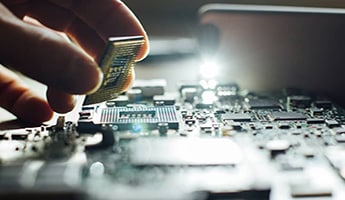 We have an experienced team of technicians who are capable of resolving your computer problems quickly, efficiently and at a low price.
Our qualified engineer will come to your convenient place to fix your Computer or Laptop. If for some reason problem cannot be fixed On-site, engineer will take your computer with them and return it either same day or next day without any extra cost with our free pick up and delivery service.
Best of all, we offer hourly, fix rates or retainer agreements, ensuring that you are not paying us unless we're working on making your IT infrastructure work better. This flexible payment structure allows small businesses and home users to access to the same high-powered IT staff on call as the big guys, without having to pay high-powered IT staff salaries.
If your computer is keep crashing, blue screen error or maybe the hard drive is corrupted or damage and etc, we can repair it to bring your computer back on live.
We diagnose your computer to find out which of the part needs to be replaced, fixed or upgraded. We have latest devices and equipment to hit right on the target of the problem. If you like us to proceed with the repair, we aim to fix problem on site otherwise, Engineer will bring in to our fully equipped repair lab to fix the problem. You will be keep updated with the progress of your computer.
We fix all kind of brands, some of the most demanding hardware service is listed below:
Screen Fix
Hard Drive Fix
Power Jack Fix
Over Heating Fix
Key Board Replacement
Power Button Broken
Dim Screen Light
Water Damage
more…
Upgrades
Upgrades can become very confusing making sure you get the correct components that are compatible with your system. We can take the stress out of this quick procedure for you. We offer a number of upgrade opportunities in the form of Memory, Hard disk, CD\DVD ROM, Peripherals and software if needed. These upgrades will come with full warranties from the manufacturer as standard.
If you feel that your used computer or laptop works slower and needs a tune up, call D7Logic to get the best advice. There is no call out charges for areas around Mitcham. We will listen to your request and suggest you the necessary upgrades. All our hardware prices are cost price, and we will normally order your parts with you so you can see the actual price, you only pay for our labour when you call D7Logic.
Experts from D7Logic will come to your location to inspect your laptop and computer. After a thorough analysis of your requirements and conditions of your computer, we provide upgrade services. You can upgrade anything from your memory, video card to hard drive as you wish. If your computer is running slow, it could be another issue, e.g. viruses or conflicting software, or virus scanners in the background. D7Logic will find and provide the best solutions to you onsite.