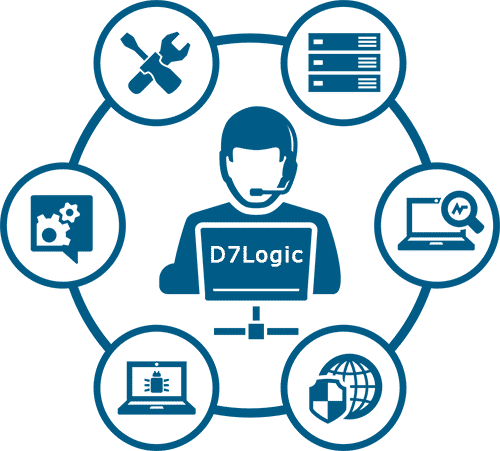 ABOUT US
Welcome to D7Logic...
D7Logic specialises in Computer and Laptop Repairs either onsite, at your home or business or from our office in Mitcham, Croydon (London). With more than 15 years of experience in computer repairs, our team can help you with any computer related problem. Our vision is to provide clear, honest computer advice and repairs to customers at the best possible price.
Why choose us?
The majority of our work comes from recommendations and that's why we are sure that once you use us you'll see why so many others come back, time and time again. We are so confident in our ability to resolve any computer related problem that we offer a No Fix – No Fee Policy. We don't use franchises and all of our engineers are fully certified Professionals. We insist on nothing but the best. All of our work is guaranteed, so in the unlikely event you continue to experience the problem, we will fix it free of charge. We also adhere to the Computer Repairs Network Code of Practice and as such abide by the Customer Charter and treat your security and data with the respect it deserves.
Our professionally-trained and industry-certified engineers, working in a well-equipped workshop and using the latest innovative technology and machinery, will provide one of the highest success rates in computer repair services.
Best Prices & Service...
We firmly believe we offer the best service at the most competitive prices that you will find in Mitcham and surrounding area.
We offer very low rates for our services – please find a detailed service and pricelist here. We work on the basis that most PC's can be fixed within the hour and our aim is provide the customer with a diagnosis within the first 15 minutes, this is preferred by our customers who like to know 'up front' what they will be charged before proceeding.
D7Logic has a team of certified computer engineers who specialise in providing cost effective solutions to home user's and small to medium sized businesses. We pride ourselves on the professional services that we offer and always ensure that our customers are happy with our work.
You can call us on 07713 907663 if you need a free phone consultation. We aim to give a free estimated quote if it's possible over the phone but if the issues are too complicated to be assessed over the phone (i.e. liquid damage issues), you will need to bring the machine to our workshop for a free estimation or we can arrange a pickup service for an extra charge.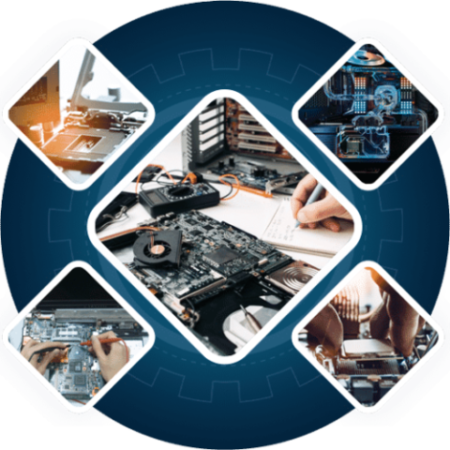 REPAIR PROCESS
Our Repair Process is Simple & Straightforward
We understand that computer problems can be very frustrating so we endeavour to minimise stress from the moment you contact us. We believe that all calls are different and therefore all enquiries are dealt with professionally.
1. Get a Quote
Give us a call, email us, send us a message on WhatsApp or book an appointment online and get a Quote for your repair.
2. Meet
You can either come and drop-off your device at our location or we come to you, whichever is more convenient for you.
3. Inspection
We will carefully inspect your device to see if we can replicate the issue you described and will also check for other issues.
4. Repair
Our highly skilled Technicians will carry out the repairs and keep you updated frequently of the current progress.
5. Quality Check
Once the repair is completed, we will thoroughly test your device and show you the result before returning it back to you.
Testimonials
What our Clients Say
Here are some reviews from customers that we have worked with and are happy to share their opinion.
Great service, very professional and knowledgeable.
Kept in touch constantly throughout a complicated back up and recovery process & complete reinstall of the system. Saved all my files too! Will recommend D7Logic to my friends and family! Thank you again!
Ken Kenobi
Client, Google Review
Deran was incredibly responsive on WhatsApp, generous with his time, and flexible regarding working time. I am not good with tech and had lots of silly questions which he guided me through for no extra charge. He really went the extra mile, and fixed my laptop the same evening I dropped it off! Highly recommend D7Logic!
Ben Andrew
Client, Google Review
My computer had gone crazy. The mouse had become non-functional. Documents were moving all over the screen and a large loop kept appearing as well as the on screen keyboard. It was mayhem. I contacted D7Logic at about 8pm. By 9pm they wrote back and advised me what to do. By 10 the problem was solved. Absolutely amazing service. Malcolm
Benmalcolm Alexander
Client, Google Review
I took my laptop to Deran as it was not working properly. Deran completely revamped it and he installed windows 10.i was expecting to leave the laptop until the next day but Deran was absolutely brilliant and i got my laptop back a couple of hours later. The cost was very good and the service was outstanding I would highly recommend d7 logic .
Sharon Sheehan
Client, Google Review
Deran is a friendly and knowledgeable person. He went above and beyond with his service in fixing my Laptop's DC jack. Updated me as an when he was fixing it with pictures and with explanations. Very prompt service, highly recommend!
Wassim Mejdoub
Client, Google Review
Took my laptop to Deran to replace cracked screen. He was very helpful, polite and informative. Kept me updated about the arrival time of my new screen and repaired it within a couple of hours – all done within a few days. Great service and at a reasonable price. Would recommend his services.
Nick Lindsay
Client, Google Review
I cracked my Laptop screen and I work from home so big deal for me!
Deran is erudite with computing, talked me through pricing and screen options. He had it fixed and dropped off within a few days. Perfect and always best to support local business!
James Paul
Client, Google Review
Fantastic service by Deran – asked for a job completing on a make and model of PC which Deran was unfamiliar with and which is not sold in the UK, yet he managed to complete the job and deliver my computer back to me within less than 12h of my dropping it off. Knowledgeable, easy to contact and most of all, very fast!
Ciaran O'Shea
Client, Google Review
Great service. My laptop had a virus and was useless. I called Deran in the morning and after 6 hours it was fixed. He kept me updated during the process. I definitely recommend his services.
Marco Seguro
Client, Google Review
Brilliant prompt service – recommended and found great hard drive solution and fitted and loaded software, effortlessly. A pleasure to deal with and would recommend highly. Particularly like the transparency and reasonableness of charges.
Clare Riddiford
Client, Google Review
The guy is a genius. He revamped my 10 year old PC and recovered my data when I thought all was lost. Now it is working like a brand new computer. I am so grateful for his expertise He can pinpoint exactly what was wrong with the computer and he stayed up all night to repair it. I am forever thankful and I certainly recommend his service; it is the best.
Saz Taylor
Client, Google Review
Yet again, Deran has surpassed himself. He went above and beyond, with an amazing new PC build for us. Great advice, guidance and knowledge.
He's kind, friendly and patient, and extremely reasonable when it comes to pricing.
Thanks again Deran! 🙂
Rachel Pain
Client, Google Review
OUR TECHNICIANS
We are Certified!