Laptop Repairs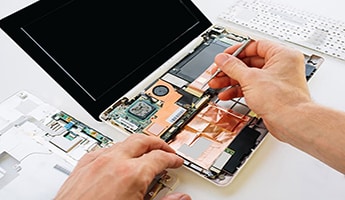 D7Logic, a professional computer repair service, in the UK offers a comprehensive range of laptop repair and upgrade services along with friendly customer service. Our team of experienced technicians and hardware engineers can repair, service and upgrade laptop computers both residential users and small business clients. We can have your laptop problems fixed in less than a day and at times while you wait.
D7Logic has professional experience in the laptop repair industry for over 15 years. We have undertaken the repair and service of all makes of laptops and notebook models including those of the most well known brands such as Lenovo, Sony VAIO, Compaq, Dell, Toshiba, Apple, Asus, Acer, Panasonic, Packard Bell, Fujitsu Siemens, HP, Gateway, NEC, Alienware, Sager, Advent, Patriot, Ei System and eMachines.
Some of the common problems we deal with are:
LCD Screen Replacements
Laptop Graphics Repair
Hard Drive Replacements and Data Recovery
Power Jack Fix
Overheating and Fan and Heatsink Replacements
Keyboard Problems / Replacements
Trackpad Problems / Replacements
Virus/Spyware and Malware Removal
Secure Data Deletion
Home Network or Wireless Setup
Windows Password Removal
Battery Problems
CD and DVD Drive Problems
E-Mail, Modem, and Internet Problems
Error Messages
Lockups and Software Problems
Media Card Reader Problems
Memory Problems
Mouse Problems
Network Problems
Printer / Scanner Problems
Sound and Speaker Problems
Video and Monitor Problems
Pick up and Delivery or Bringing-in
Common Laptop Problems
No Power or Display
No power to your computer, monitor light comes on but the computer will just not switch on! This is quite a common problem and doesn't mean it's the end of the computer, give us a call today and find out how inexpensive such a repair can be.
All Makes Covered
You name it we have experience of repairing virtually all makes & model of computer, Packard Bell, Compaq, Hewlett Packard, Dell, Time, Tiny, Philips, Asus, Gateway, Acer, Fujitsu, HP, Mesh, ei system, Medion, Lenovo, Apple, Evesham, and PCworld's own brands like Advent and E-machine.
Windows doesn't load, continuous loop on start-up
If your windows displays a menu with various selections i.e. safe mode, last good known configuration etc or Vista displays the dreaded Launch repair utility that never seems to work, then give us a call as we can fix this without the need in most cases to restore or format the computer. We always backup you're data.
Clunking Hard Disk
Does your Hard Disk make a clunking sound? We can replace most Hard Disks from stock, and transfer your data.
Computer Freezing
Can be caused by overheating, faulty components, in most cases we can identify the cause of the problem and fix onsite, in some cases were the problem is intermittent we will recommend a workshop visit usually we will turn around your repair within 12/24hrs.
Blue Screen, Stop Error
Is your computer crashing, blue screen error? We have a proven track record of fixing this type of crash.
Laptop Motherboard Problems
A defective or damaged laptop motherboard can display several problems. A faulty power supply is a major reason for damaging laptop motherboards. Power supply fluctuations and spikes can easily cause damage to your computer motherboard. A laptop may also randomly shut down due to overheating and dust accumulation in addition to other notebook motherboard issues. There may also be issues due to a manufacturing defect such as leaking electrolytic capacitors. In some situations your motherboard may be extensively damaged beyond repair. In such situations the only alternative will be to replace the laptop motherboard.
Common Laptop Motherboard Problems
Laptop not turning on
No power at all / no signs of life
Bad failing BIOS chip
Blue Screen errors
Laptop shuts down randomly
Video display problems
Laptop components won't work
Laptop acts unusually
Dead laptop computer
No display or dim display
Laptop freezing or hangs
Start-up and shut down problems
Laptop screen distortion/discoloration
USB ports not functioning
Laptop battery not charging
Damaged or loose DC power jack
Fan runs constantly, laptop operates slowly and generates heat
Missing NTLDR serious error message appears during start up
BIOS shows incorrect product number
Operating System Not Found appears on black screen
Missing Operating System error message appears on black screen
Sorry for the inconvenience, but Windows failed to start successfully appears
162 – System Options Not Set Error Message
178x – Disk Controller Error appears on black screen
Disk Controller Error or Multibay Lock error message during boot
Error messages appear on a black screen
PXE-E61: Media Test Failure error appears on black screen
Black screen displays with no error messages
Laptop Screen Problems
There could be quite a few problems with laptop LCD screens. Some problems can be fixed while others would require a laptop LCD screen replacement. It is significant to make a diagnosis of the problem you experience before taking a decision as to fix or replace your laptop screen.
Common Laptop Screen Problems We Can Fix
Laptop display is dim during or after start-up or boot
Continuous flickering of the screen
Backlight and inverter problems
Distorted, scrambled or garbled video
Black or blank screen
No video issues
Fuzzy text, blurry or stretched images
Brightness, contrast, or geometrical problems
Horizontal or vertical lines
Bright or dead pixels (pixel defects)
Screen, icon, or font size too small or too big
Bright or black small dot
Lines appear or incorrect colours
Vertical lines in the display
Solid horizontal green line
Resolution too low
Blotches and white spots
Cracked liquid crystal display (LCD)
Broken LCD panel
Splotched sections
Black splotch with white sections
Diagonal or jagged lines
Black splotches cutting through screen (bleeding or leaking LCD)
Black and white splotches with white lines
LCD around edges is discoloured (liquid spill into the LCD)
Customers can either walk in and drop their faulty laptop. We can also arrange for secure courier service to collect and return your laptop and keep you posted frequently about the status of repair.